MitreBond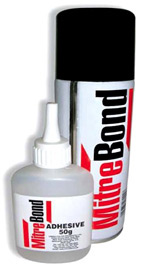 Email: info@mitrebond.ca




Stick it with MitreBond - the strongest, fast setting glue on the market!

MitreBond is an amazing instant adhesive that sticks fast and forever! It is so versatile that it can be used to bond almost anything, even totally different materials. Just imagine being able to glue glass to metal, stick wood to aluminum, attach acrylic to granite, join rubber to ceramic, etc.


USE MITREBOND TO STICK IT!
Lumber Yard, Hardware Store,
Decorating Supplier or Molding
Manufacturer?
Looking to stock MitreBond?
Contact the N. American
representative and distributor
for retail opportunities.
info@mitrebond.ca
MDF
Acrylic & PVC
Timber
Steel
Leather & Rubber
Ceramics
Aluminum
Polyurethane
Glass
Granite, Quartz & Marble
MitreBond is quick to apply, ready to use and sets in under 15 seconds! Use it for hundreds of DIY or craft projects, model making, toy repairs, etc. MitreBond adhesive works when you need to glue crown moulding, secure exterior trim, fasten chair rail, join casing, bond valance, install kitchen counters, attach quarter round... the list is endless and only limited by your imagination.


"This glue has no comparison. MitreBond can't be beat, it sticks almost anything in seconds – AMAZING!"
One of our thousands of satisfied customers
"Tired of over marketed wood glues that didn't deliver, thought I'd give MitreBond a try... went from zero to hero in 15 seconds! Unbelievable!
Counter Staff
Brenlo Custom Wood Mouldings